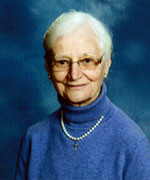 Soula was born in Kerdilion Greece on December 6th, 1937, to Maria and George Pampori. She has 4 sisters; three live in Greece, and one lives in the United States.
Soula graduated with a Bachelors of Arts degree from Eastern Washington University (E.W.U.) in 1962. She then attended Physical Therapy School at the Rochester Mayo Clinic, and upon graduating in 1964, Soula returned to Athens, Greece, to work at Voula's Hospital.
In 1968, Soula returned to the Mayo Clinic and retired after 30 years of service. She now volunteers twice a week at the Department of Hospital Chaplaincy, and visits Orthodox patients from all over the world.
Soula has been chanting at Sts. Kosmas and Damianos since 1985.